South Korean startups have been given the green light, and the nation has become one of the key startup hubs in Asia. After the dot.com bubble burst, few people dared to start their own business. However, some internet portals and online game companies survived the downturn to become so-called "Unicorns", companies valued at over US$1 billion, leading the stream of success stories. Then a new generation of startups emerged around 2010, and now the country has over 1,000 startups according to a map of the field by Rocket Punch.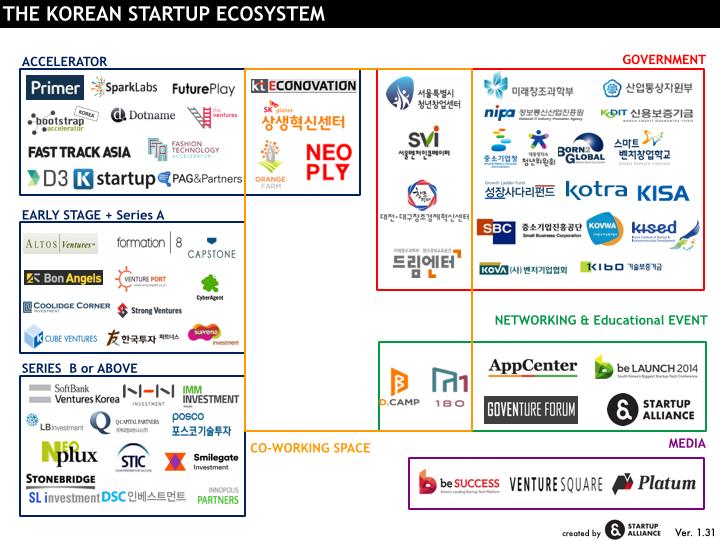 Immense support from the Korean government also boosted the startup scene. The "Creative Economy", the Park administration's key strategy, aims to build an economy that is mainly powered by startups rather than established players like Samsung, LG and Hyundai. The government allocated a US$12.6 billion fund for 2015 to support Korean startups, a 5.8 % increase over this year.
For those who want to find out more, Startup Alliance is the place for you. It works as a hub where you can learn about the startup ecosystem and connect with the fledgling companies. Startup Alliance is a joint effort between the private sector and the government's Ministry of Science, ICT, and Future Planning, with leading IT companies such as Naver, Daum, Kakao, and SK Planet involved its formation, as well as investment companies, startup incubators, and startup accelerators.
Jungwook Lim, managing director at Startup Alliance, was previously a reporter at Chosun Ilbo, one of the country's largest newspapers, then served as CEO of Lycos. Now he is playing a crucial role in the Korean startup ecosystem, internally linking the private sector and government and externally linking Korean startups to those overseas and introducing the nation's ecosystem when other governments come to visit. Recently, he presented "The Rising Korean startup ecosystem" on AsiaBeat 2014, with five key points.
1. Gangnam is a hot place for tech startups as well as tourists. 
If you are thinking of visiting Seoul to check out the startup scene, I recommend you visit Gangnam. Yes, it's the name from that famous song. Gangnam district is the commercial center and is now becoming a hub for startups. Most Accelerators, co-working spaces and startups are now located in Teheran-ro, creating synergy. D.CAMP and Maru180 are well known co-working spaces for startups, launched by Banks Association and Asan Nanum Foundation respectively. The first Google campus in Asia and Naver's Accelerator will also open in Gangnam next year.
2. Successful entrepreneurs are now becoming angel investors and venture capitalists
Changseong Ho and his wife Jiwon Moon started their first business in 2000, though it turned out to be a failure. However, looking back upon the past experience they started Viki, a crowdsourced subtitling platform. Viki was successfully acquired by Rakuten for US$200 million last year. They then started Vingle, an interest-based content platform and later established an Accelerator, theVentures, to help young entrepreneurs with mentorship and investment.
The FuturePlay's CEO Jung-hee Ryu successfully sold Olaworks to Intel while the company's CTO Jason Han sold his company to Korea Telecom. Using their experience as engineers, they established FuturePlay, an incubator providing specialized programs for hardware engineers.
3. Top talent from big companies and top universities are starting their own businesses
The co-founders of KnowRe (a cloud-based secondary math program) were mathematical prodigies at Seoul National University, KAIST and POSTECH, Korea's elite universities. They were authors of a best selling math-learning book as well as successful math instructors in Daechidong, Korea's foremost private education zone. They brought fundamental math concepts to KnowRe to help students having problems with the subject, and set up headquarters both in Seoul and New York City.
Goldman Sachs invested US$36 million in Baedal Minjok, the food delivery app. The company, Woowa Brothers, was founded in 2010 by two brothers, Bongjin Kim, a designer and Kwangsoo Kim, an engineer. Bongjin Kim had previously worked for Naver, Korea'a primary search portal. The brothers are heading to Japan with Naver's messaging app Line by forming a new joint venture called Line Bros. Corp. They are currently operating a food delivery service called Line Wow in Japan.
4. Korean startups are getting global attention
Between, the social network service for couples, hit a major milestone by reaching 10 million downloads globally. The app developer VCNC revealed that 50% of their users are from overseas, mainly Japan, Taiwan and Southeast Asia. Earlier this year, DeNA, Japan's mobile service leader made a strategic investment in the company to support its 1 million Japanese users.
Memebox was the first Korean startup to be accepted on Y Combinator's program. The company successfully presented on demoday on March and has said that Y Combinator Startups internally chose them as one of the top three startups on its winter 2014 program. Memebox ships to 36 countries, including China.
5. Korean startups are getting investment and acquisition from overseas VCs
This year, many Korean startups received significant investment from Silicon Valley VCs. Coupang, a social commerce company, received a US$100 million investment from Sequoia Capital. Yello Mobile, a mobile media business in South Korea comprised of more than 50 companies, raised US$100 million from Formation 8 at a US$1 billion valuation.
Korean startups are also starting to get acquired by Silicon Valley companies. Tapjoy, a leading mobile ad-tech and monetization platform, acquired 5Rocks, a Korean analytics and marketing automation company. 5Rocks has a lot of customers, mostly game developers in Korea and Japan, and is also considering getting into the Chinese market through Tapjoy's subsidiary in Shanghai.
Virtuous cycles are now created in Korea's startup ecosystem. In the next few articles, I will elaborate on these individual startups.
This article is reprinted with permission from Technod. Content may not be reproduced in any form without permission.
Reporter: Eva Yoo (TechNode)
Source: http://goo.gl/hvvNLw