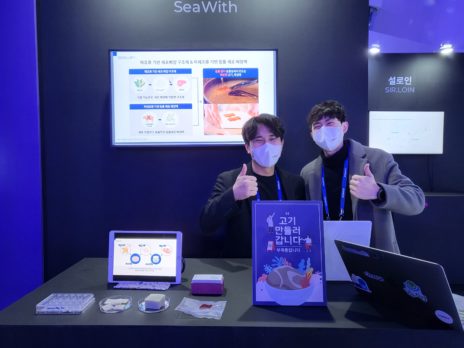 Seawith (CEO Lee Hee-jae), a lab-grown meat development startup that produces Korean beef, announced on the 19th that it received an additional investment of 1 billion KRW from Mint Venture Partners.
As of now, Seawith has completed a series A investment worth a total of 6.5 billion KRW, and plans to invest the fund in production facilities and commercialization. In Series A, HG Initiative (HGI), Daesung Startup Investment, Daily Partners, SL Investment, Enlight Ventures, and Blue Point Partners participated. Mint Venture Partners newly joined this time.
Seawith, founded in March 2019, is an innovative technology startup that aims to solve the problems of the existing livestock industry by developing lab-grown meat based on marine plants. Following the successful development of cultured Korean beef and a closed tasting session in May, this series A investment is expected to further spur the commercialization of cultured meat development technology in Korea.
Seawith CEO Lee Hee-jae mentioned his goals as follows. "Seawith has developed a key technology that is important for commercialization of cultured meat. Many foreign protein alternative food development companies are also interested in our technology; we are preparing for cooperative research and development with them now. We will focus on investing in production facilities and commercialization so that the engineering technology using marine plants can be used for the environment and life. We have already completed the development of exclusive technology related to cultured meat production. Upon the completion of the series A investment, we will now focus on the research into commercialization."
In December, Seawith was recognized for its technological prowess in developing bio-sourced materials using marine resources and was selected as the 4th 'National Representative of 1000 Innovative Companies' in the health and diagnosis field by the Ministry of Oceans and Fisheries.
National Representatives of 1000 Innovative Companies' is a program that selects and supports 1000 companies with high future growth potential in cooperation with the Financial Services Commission, the Ministry of Industry, the Ministry of Science and ICT, and the Ministry of SMEs and Startups.
To sum it all up, Seawith is developing cultured meat based on marine plants and this technology has continuously proven its technological excellence: the company won the grand prize in the laboratory startup IR presentation contest as well.