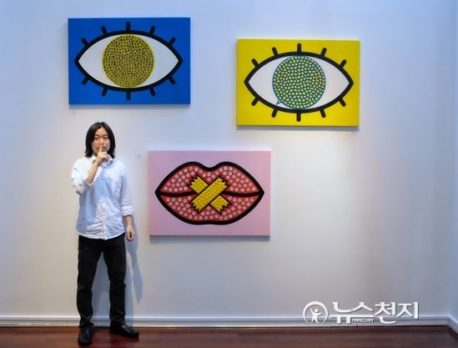 D
Mr. Mind Co., Ltd. (CEO Dong-won Kim), pop artist Hojin, and Good Player (CEO Min-ho Kim) announced that they had started an AR content production project with the Han 4-dong Residents' Association in Gwangmyeong-si. The project is called 'Happy Village's Happy Road Mural Street Creation Project.'
Mr. Mind, pop artist Hojin, and Good Player had created 'Wall Commandos' with the theme of meeting technology and art last March. They are creating stories on marginalized walls and alleys in the region and using the works of emerging artists to recreate them as a living, breathing space.
The first AR mural fine art in Korea will be painted on Hadam-gil, Haan 4-dong, Gwangmyeong-si, in collaboration with the Culture and Art Project 'Wall Commandos' and Mr. Mind, an artificial intelligence company. With the motif of 'the Little Prince's Boa Constrictor', a work of pop artist Hojin, the artist directly transfers the work to the wall of Hadam-gil's apartment, and Mr. Mind films the wall with the smartphone so that the work of art can be displayed on the screen as if it is alive. 'Wall Commandos' is a project that aims to 'popularize and industrialize Korean art' and 'create urban regeneration art and local culture' through the work of the best artists in the domestic art field by transferring their works directly to the walls of the city.
Mr. Mind is a public care start-up that has developed an artificial intelligence-based care robot that plays a role as a companion doll and is distributing it to local governments across the country. It is a robot that can prevent dementia, depression, and loneliness.
A world-class Pop artist Hojin has completed more than 300 exhibitions in Korea, the US, UK, Germany, Hong Kong, etc. for more than 10 years.
Good Player is an organization that promotes projects that help fine artists lead a life with their work and increases good influence through their works.
At the Residents' Association in Haan 4-dong, Gwangmyeong-si, the work of artist Hojin and Mr. Mind's AI technology will be combined to create a convergent cultural space that did not exist in the world before.
A source from the 'Wall Commandos' said, "This is a village AR mural work that was started as a 'resident tax return project.' The decision was made in the residents' assembly. What is more meaningful is that with the participation of pop artist Hojin, there is great anticipation that the monotonous wall of the town will be transformed into a cultural and artistic space. It is expected that this place, which will become a space where people can communicate and share laughter with their family, will establish itself as a tourist attraction in our town. And I hope that the works of young artists who will become the future of Korean art will be shown in more places through the mural works in our area."