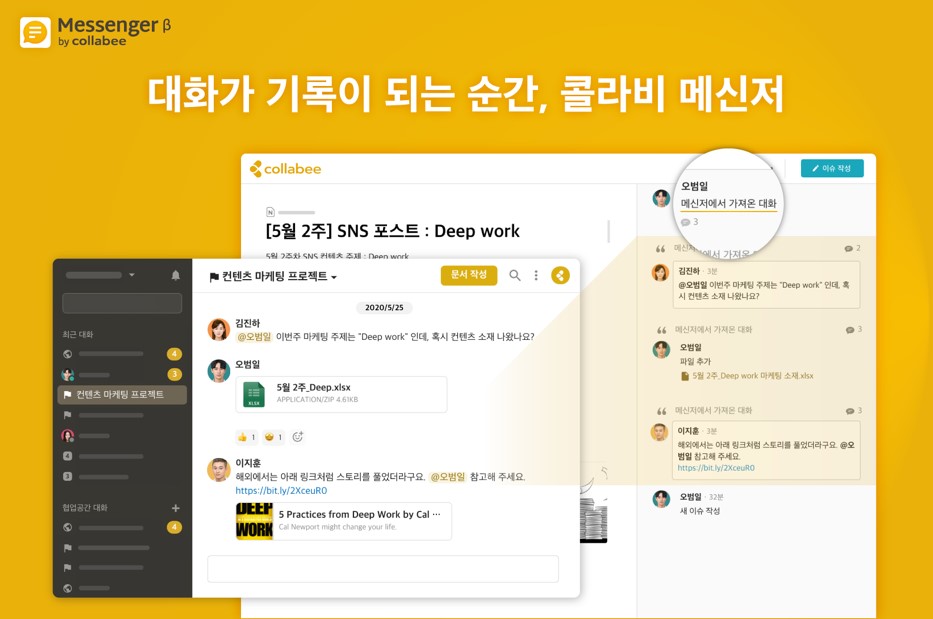 The Collabee team (CEO: Cho Yong-Sang) released the mobile version of its corporate messenger "Collabee Messenger" on June 22.
The newly released messenger overcome the limitations of existing corporate messengers through its link with document-based one-page team collaboration software Collabee.

The only all-in-one collaboration tool provider in Asia, Collabee team's mobile version of messenger features the ability to resolve the difficulty of using corporate messengers. The team resolved the distraction issue and work history management by offering features of switching dialogue into
document format. Through the messenger, users can record important conversations in their work history, and collaborate with other team members such as task management and schedule management.

Collabee team, said, "By providing a mobile version, Collabee has been now reborn as an optimized solution for the untact environment that maximizes the efficiency of work communication in non-face-to-face situation." and also added that "It will be a great alternative solution to enhance productivity, by overcoming limitations such as message volatility and inability to manage business history".

Meanwhile, Collabee team attracted Pre-Series A investment from Venturesquare and MegaInvestment. In the same year, the company was selected as an R&D business by the Small and Medium Business Administration.
This year, it signed a reseller partnership contract with Google's partner company "TPCG." The new mobile version can be downloaded for free at the Collabee messenger site (https://messenger.collabee.co/welcome).