Heungguk Fire and Marine Insurance announced the signing of an MOU with startup Klounge on November 9 to provide improved customer service for insurance claims in response to the Covid-19 pandemic. Klounge, which was founded in 2011 by Taeho Lee, is a startup based in Seoul specializing in WebRTC and SAAS platforms.
The agreement will see Heungguk make use of Klounge's new service Videohelp.me to assist customers remotely when making claims for motor vehicles. Videohelp.me is a customer assistance platform that lets companies help customers or clients via video calls, images and voice, without the need for any extra software.
The service operates fully inside a browser for both parties and includes the functionality to send out text messages to customers with an instant-connect link.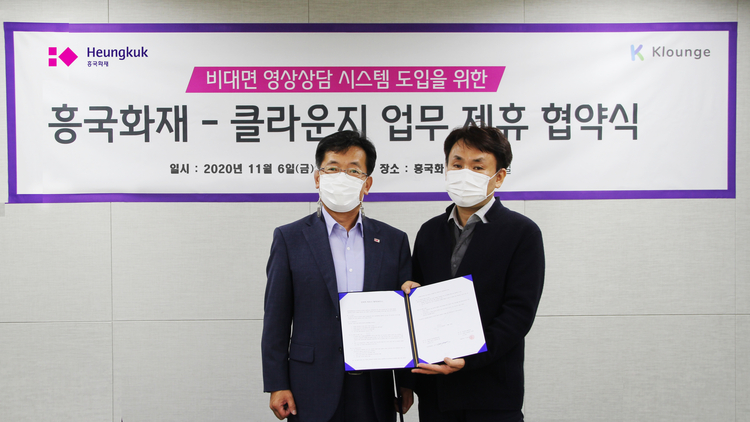 Through their smartphone camera, customers can provide evidence for claims, such as car damage, in real time and reduce the need for insurance agents to visit accident sites in person. Videohelp.me isn't simply just a video calling service, but also allows agents to help inquiries in other ways by sharing video, PDFs, drawing diagrams on still images, and more.
Customer privacy is protected by defaulting to the back camera instead of the front camera at the start of a call. However, customers can also be asked to share their location, activate their camera flash, or use the front camera if needed, but only if the customer gives them permission by accepting the request.
A spokesperson for Heungkuk Fire said, "We expect to accelerate the establishment of a shift towards digital technology in order to improve customer service — one of the main areas of focus for us."
Aside from Videohelp.me, Klounge also operates the browser-based video conferencing service Gotalk.to which lets anyone host general video meetings without any apps on all platforms.