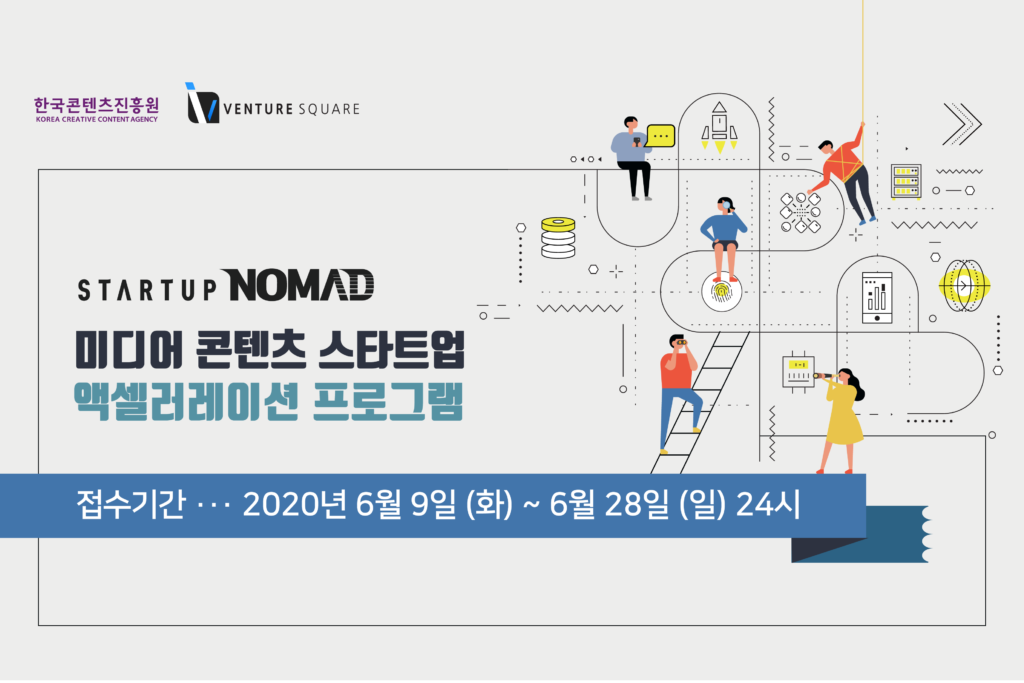 VentureSquare (CEO: Myung Seung-Eun) started recruiting startups to participate in the Startup Nomad Media Content Acceleration Program organized by Venturesquare and supported by the Korea Creative Content Agency. The application deadline is until midnight, June 28.
Startup Nomad Media Content Acceleration aims to find content based startups that show high potential on profitability. Also, companies must facilitate the production and distribution of content producers by developing or utilizing cutting-edge technologies. Candidates with background of categories including AI, Big data and Block-chain will be welcomed and applicants must be pre-founder or with less than 7 years since established. Also Companies that have received support from the Korea Creative Content Agency is not able to register.
Selected startups after the final evaluation will receive 10 million won commercialization fund and business mentoring support from VentureSquare for about six months from this July. In addition, direct and linked investment opportunity will be given, along with press marketing through the VentureSquare channel and TIPS support program.
Startups wishing to participate can fill out necessary documents and apply. For more information, visit the VentureSquare site at https://bit.ly/nomad20) and complete application at the Gitbal (https://startup.gitbal.io).
Meanwhile, VentureSquare is a media, accelerator and investor, connecting various networks in the startup ecosystem. Also, the company cooperates with government agencies and large companies in startup programs and event planning field.