Seoul Fintech Lab will open in Yeouido, the financial hub of Seoul. The second fintech lab, which is the second location for fostering fintech companies following the launch of 'Seoul Fintech Lab' in April 2018, is the first case of a space dedicated to fostering local startups on the global platform 'WeWork'.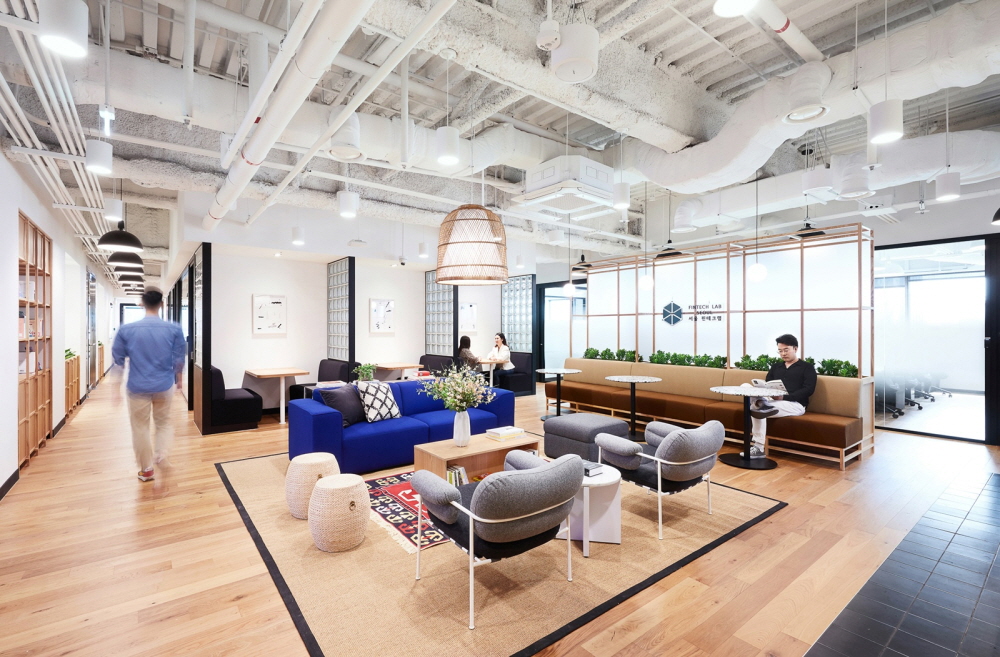 The Seoul Metropolitan Government announced that its second fintech lab opened in WeWork Yeouido Station with a total of 14 member companies, including foreign companies from the United States, Hong Kong and Singapore. The second fintech lab, at first, occupies one floor among the six floors of WeWork Yeouido Station.
In addition, with the extra budget secured to reflect high demand, it will expand to three additional floors in the same building within this year. With the opening of the fintech lab in Yeouido, the Seoul Metropolitan Government will foster the local fintech industry and build a startup ecosystem to help Seoul thrive as a fintech hub in Asia.
The 14 selected companies will be provided with workspace in WeWork for up to two years, and will be able to take advantage of the various startup support programs offered by WeWork locations around the world and by Seoul Metropolitan Government. The startups will also be provided with global startup support services provided by 'K-Accelerator', the selected local operator of Seoul Fintech Lab.
In particular, Seoul Fintech Lab will provide customized mentoring for commercialization, investment, marketing, technology development, law and patents, overseas advancement, public relations and offer competency education and hold demonstration days through K-Accelerator.
As of the first quarter of 2019, WeWork has more than 485 physical locations in 105 cities and 28 countries around the world and has created a global community of over 466,000 members.
While the first Seoul Fintech Lab, which was established in April 2018 in Mapo, mainly targets early-stage startups, the second fintech lab will focus on fintech startups that have already entered the growth stage. To that end, the Seoul Metropolitan Government selected companies with four or more employees that have met specific criteria, such as having attracted over 100 million Korean won in investment and recorded over 100 million Korean won in annual sales.
Prospective fintech firms offering various services will move in, including an AI-based asset management company, a startup addressing information imbalance through insurance data analysis, blockchain service development solutions company and a startup that analyzes companies' non-financial risks through big data.
The Seoul Fintech Lab in Mapo has been operating successfully in 2018, achieving 3.3 Korean billion won in sales, 5.1 billion Korean won in investment attraction, 18 applications for intellectual property rights and hiring 61 new employees.
In addition, the second fintech Lab will attract competitive foreign companies so that local and foreign fintech startups can work together in the same space, providing them an opportunity to exchange and collaborate more freely. The city is creating an environment where companies can complement each other and share ideas, setting the trend in the fast-changing industry, while contributing to local companies' overseas advancement.
The Seoul Metropolitan Government plans to continue related efforts in the future by increasing cooperation with relevant overseas organizations and conducting promotional activities when participating in overseas fintech events in order to attract competitive fintech startups to Seoul.
Meanwhile, the Seoul Metropolitan Government announced that the opening ceremony for the second fintech lab and meeting involving the member companies, the Seoul Metropolitan Government and private fintech support organizations will be held today. In-dong Cho, Deputy Mayor for Economic Development, Seoul Metropolitan Government, as well as employees of the member companies and K-Accelerator, the operator of the 2nd Seoul Fintech Lab, attended the event to celebrate the opening of the second fintech lab and express their wishes for successful settlement and growth of the companies.
"The second fintech lab will become the center of fintech in Asia by providing customized support for each member company utilizing Yeouido's advantageous location and the strengths of WeWork's global platform," said In-dong Cho, Deputy Mayor for Economic Development, Seoul Metropolitan Government. "We will attract competitive overseas companies to Seoul and operate the second fintech lab as a key anchor of the fintech industry, helping our promising local startups advance abroad," he added.